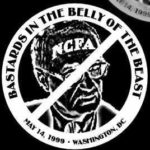 For the uninitiated,  Bill  Pierce was the founding president of the National Council for Adoption, incorporated  specifically in 1980 to keep records sealed and to promote adoption. Although sealed Original Birth Certificates  and adoption files predated NCFA, Bill  handed states, adoption secret keepers and a variety of organizations from The National Right to Life Committee to the ACLU  tools to maintain their decades-old stranglehold on our records, identities, and lives.   Without Bill our battle today would be much smaller, the restoration of our rights easier grasped. 
******
Recently Attorney Greg Luce visited the National Council for Adoption collection–basically the Bill Pierce collection– at the University of Minnesota Social Welfare History Archives.He sent me this shot of Bill's indexing comments  about the courtesy fax I sent him on April 3, 1999 alerting him to the Belly of the Beast Protest and Exorcism at the old  NCFA office off Dupont Circle scheduled for the following month.
This is too funny!  Adoptee equality is anti-adoption!  Adoptee equality is the internet's fault!  At least he left out his seriously weird comment on alt.adoption that it should be illegal to look up names in the phone book.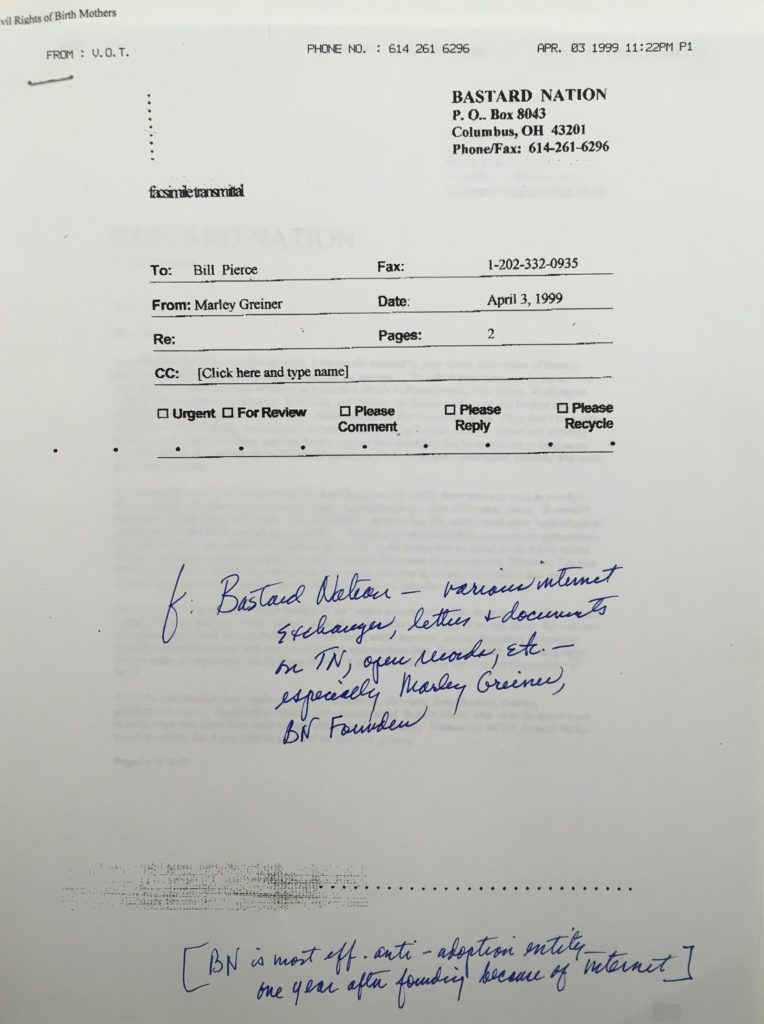 Of course, Bill countered us  (7 or 8 police cars showed up; we had a permit) by shutting down the office on the day of the protest and running back to the safe confines of his home in Bethesda. He left us this message written on a box hanging on the fence.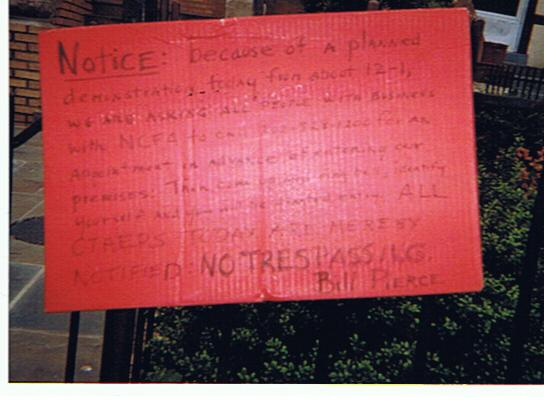 Bill told me later that if it were up to him he would have faced us down and kept the office open, but that his wife Paula O'Connor and various board members feared for his safety.
Of course, in the end  Bill didn't do himself or NCFA any favors with this reposte post- exorcism when he told the Washington City Paper:
They ("birthmothers") might have had some sexual activities, might have indulged in some recreational drug use." Let's assume I used marijuana in the past and had sex and also had anal sex with a woman who may have had anal sex with a guy who is gay. And I also had a bout of depression, and there may be some biochemical or genetic thing. There is zero chance you're going to get a candid background history if they know it will be accessible. So they'll say, 'My health is perfectly good.'"
Just how many people can you insult in five sentences?
Later Bill and I developed a curious friendship. Several times he told me that despite our public brawls he actually liked  and admired Bastard Nation. ( After retirement he even spilled some dirty goods about them to me).  Bill said we had no "hidden agenda."  That is, we were honest.  Bill, you see, liked fighters. "You stand for something. You do what you say you will." Bill also warned his successors (they have told me so) to listen to BN. We are the only player in the game.
When Bill was terminally I told him repeatedly to drop the sealed records BS and come out on the right side of history.  He'd already admitted we had won, and I'd learned  elsewhere that the board, tired of his money-wasting antics, had put him on a short leash. What was the deal? Why do you want to leave such a terrible legacy? Once you're  gone,  I told him, NCFA would not prevail against the tide.. He repeated response: "Fuck 'em, I did my job." And he was right.
Today the fun is gone, and NCFA is pretty much out of the sealed records business. Now we have to deal with the second and third-rate know-nothing maraginals and  deformers that Bill and I found dull-witted and mendacious. Keep your friends close, but your enemies closer.
NOTE: The Belly of the Beast page here has gone missing from the Bastard Nation page.  Some of  our speeches are here. We will attempt to reconstruct the page)
******
Join me on Twitter @DBastardette
Join Bastard Nation on Twitter